What is the difference between ievo Revision 3 and Revision 4?
The Revision 3 (REV3) Interface Board was the first biometric control board from ievo, now part of CDVI. It was launched in 2010.

The REV3 was specially designed for seamless integration into access control systems using a Wiegand connection.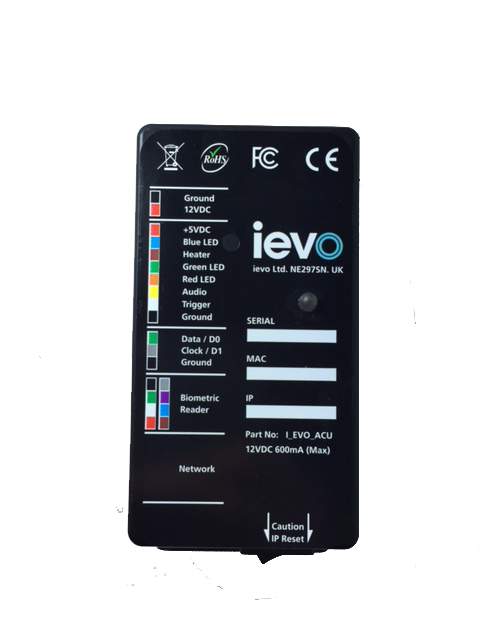 ievo REV3 Revision 3 Interface Board
The ievo Revision 4 Interface Board is the next generation of the ievo product range, surpassing and building on the REV3 technology.

Improving on system integration and offering a sleek modular design, ievo REV4 equipment is fully customisable and serviceable. The REV4 can be powered by either DC or PoE, and can be paired with custom RAL coloured readers.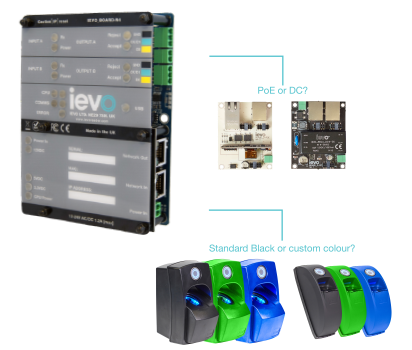 ievo REV4 Revision 4 Interface Board options
Related Articles

Which operating systems are supported by ievo readers?

ievo readers currently support Windows Server 2008, 2012 and 2016. Windows 7, 8 and 10. It is recommended that your PC meets these minimum specs: CPU: Dual Core 2.0+ Ghz (or equivalent) Hard Drive: 10GB Memory: 2GB Network: NIC (Static IP) Microsoft ...

Can I install an ievo reader horizontally?

No. Do not install reader heads horizontally. Otherwise, users will not be able to approach the sensor from the required angle for scanning. We advise all customers and clients to install ievo fingerprint readers vertically.

Are my cards/tags/credentials compatible with ievo readers?

To check whether your identification card/credential is compatible with the ievo card reader module, please send a sample card along with a completed Card Compatibility Form to us for assessment. We will assess the compatibility and return your card ...

How much power does an ievo reader require?

An ievo system can pull up to 1.6 Amps, depending on which version of equipment you are using, as well as whether you are using any additions. We recommend powering an ievo system with an independent 12V, 2A power supply. Note that you can power two ...

What type of cable should I use and how far can I extend them?

This article covers cabling requirements and limits for ievo biometric fingerprint readers. First check which Revision of ievo equipment you are using - it will be either REV3 or REV4. Revision 3 (REV3) Equipment REV3 ievo readers come supplied with ...