VDP Connect is a free smartphone app for iOS and Android that allows you to control and operate your 2EASY video entry system from your phone.

App features
Better and faster video streaming
See who's at the door from your smartphone

Preview images before picking up calls



Downloading the app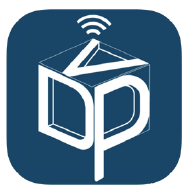 Navigating the app

VDP Connect allows you to connect to your 2EASY video entry system from your smartphone. You can view images from door station cameras, speak to visitors, and remotely unlock the door.

The main command buttons are shown below, showing how you can unlock the door, view missed calls and incoming calls, view cameras and door stations, and browse the history of access events.

Setting up with 2EASY

In order to use the VDP Connect app, your 2EASY video entry system must be WiFi-enabled. If you aren't sure whether your 2EASY system can connect to WiFi, you should contact the professional who installed the system.

Connecting the monitor to WiFi

Press the WiFi icon on the home screen.

Select the WLAN Setting option.

Pick your desired WiFi network from the list.

Enter the network password and click Connect.

The monitor is now online and will show this symbol ( ) at the bottom of the WiFi menu along with the name of the connected network.

Now return to the home screen.
Connecting the VDP Connect app
Once your monitor is connected to WiFi, follow these steps to enable the VDP Connect app:

On the monitor's main menu, tap Settings, followed by General and then VDP Connect.

To use the VDP Connect app, ensure this setting is enabled.



The VDP Connect app only operates with the upgraded 2EASY firmware (V1.8.1 or above). If you are not sure whether your system has the appropriate firmware, contact your installer.

There are two different apps that can be used with the 2EASY system. The VDP Connect app is the newer, better, and more advanced app - if your system is compatible, we recommend using VDP Connect. The other available app is the 2EASY app (available on iOS and Android). If you are using the 2EASY app instead, you will need to ensure that the VDP Connect parameter under
Settings
>
General
>
VDP Connect
is set to
disabled
. For more information on how to configure the 2EASY app,
check out this article.
Diverting calls to your smartphone

On your 2EASY monitor's home screen, touch the Call Scene button.

You can choose between two options for diverting calls:


Divert Call Always - this will divert every call that comes into your monitor to your smartphone app immediately.

Divert Call If No Answer - this will divert calls to your smartphone only when the monitor has rung for 30 seconds with no answer at the monitor.


On the home screen, a phone icon with an arrow will appear if you have call diverting activated.